Yokkaichi
From Mie Guidebook
Yokkaichi (四日市市 : Yokkaichi-shi) is the most populous and most urban city in Mie and is home to about 300,000 people. It is kind of infamous for being polluted, but now it's actually no longer as polluted as it was in the 1960s and 70s. It has many of the facilities one would associate with larger towns. It is approximately 35 minutes away from Nagoya by Kintetsu and about 30 minutes from Tsu.
Yokkaichi is part of the Nagoya Metropolitan Area (中京圏 chūkyō-ken), and many consider it a suburb of Nagoya. Some say that the border of Greater Nagoya ends at Yokkaichi, others say it stretches as far as Suzuka.
Name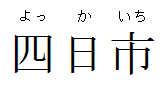 "Yokkaichi" is made up of three very elementary kanji, and could literally be translated as the "Fourth day market". However, this meaning is suspicious, and a more accurate translation likely exists. One theory could be that Yokkaichi was four days away from somewhere important, and that is how its name came about.
It is worth noting that there are quite few "number + kaichi" (~日市) cities and towns around Japan, so it is a suffix that has seen fairly wide adoption. There is a the very similar-looking Yōkaichi (八日市) just on the other side of the mountains in Shiga Prefecture, there is a large suburb of Fukuoka called Futsukaichi (二日市), there is an Itsukaichi (五日市) area in both Hiroshima and in Tokyo, and there is even a neighborhood in nearby Suzuka called Mikkaichi (三日市).
Orienting Yourself
The center of town is the Kintetsu station, and the big department store above it. This is where most directions in this article start from. The JR station is out of the center of town and a bit of a pain to get to.
Another major center of gravity is LaLa Square, the giant Apita which a two minute walk west of the Kintetsu station's north exit. This has the cinema, supermarket, shopping, and the all-important Starbucks.
Immediately east of the Kintetsu is the rabbit warren of old arcade-style covered shopping streets, some directions will refer to these as well. East & north of the station is the sprawling red-light district, with all that implies.
Getting Around
Train
It costs ¥610 to Nagoya and about ¥2000 to Osaka or Kyoto [around ¥3520 if you take the limited express with reserved seating]. Kintetsu trains run more often and to more places throughout Mie, as well as Nagoya and Osaka.
You can use Kintetsu to get around Yokkaichi via not just the Nagoya Line but also the Yunoyama Line to the west (to Komono) and the Utsube Line to the southwest of the city center.
JR Yokkaichi is at the top of Chuo Dori, 10-15 minutes' walk east of the Kintetsu station. It's in deadsville though it is cheaper to Nagoya than the Kintetsu but it runs far less frequently. From Kintetsu Yokkaichi, take the South-East exit and walk straight, passing Star Island on your left. At JR Yokkaichi, they actually have a JR office where you can buy Shinkansen [bullet train] tickets in advance and other JR services are available.
It can be good for travel - it's useful to get directly to the Deep South. Also it's great if friends/family have a JR pass. And, you can get to Kyoto for only ¥1890 in the same amount of time as a Kintetsu Limited Express, though this requires 4 trains, changing at Kameyama, Tsuge and Kusatsu, and spending some time with the timetables to get good connections.
Bus
To and from Nagoya International Airport (Centrair): There is a handy direct bus link that goes to/from Kintetsu-Yokkaichi, in the bus stand outside the west exit. The bus stand is number 0 and there is usually a bus that leaves every hour. Sanco Bus Link here[1] No reservations are needed for the bus, just hop on and pay when you get off at the Airport. Adults are ¥1200, children ¥600. It takes about 80 minutes to get to the airport. Super useful since you can store your luggage underneath and not have to drag it around the train stations.
Highway buses are also available out of Yokkaichi to both Kyoto and Osaka several times a day. Both city centers can be reached in between 2 to 2 1/2 hours, at ¥2500 one way, or ¥4000 round trip. Tickets can be bought in advance at the Sanco travel agency (in the Kintetsu west exit bus loop) or online through the Sanco website. The bus picks you up from the Kintetsu west exit bus loop, in front of the Family Mart.
Buses go from a few different places in the center of town, which is a bit confusing.
Outside Kintetsu west exit. Buses mainly heading West, plus the airport link as above. The bus information office (maps, tickets etc.) is here.
Near Kintetsu south-east exit, in front of Star Island. Buses mainly heading east and north, including to the JR station and to Yokkaichi Port.
Across the road from south-east exit, outside the Kintetsu Utsube/Nishihino branch line. Look for the AM/PM. Buses mainly to the south and south-west. There's even one that goes to Suzuka but its cheaper to just take the train to get there.
Local Attractions
Yokkaichi is a bit of a blind spot for tourists, almost always ignored for other places in Mie.
There is a traditional tea house in a small but attractive park where you can be served matcha - five minutes' walk south of the west exit of the Kintetsu. There's the pottery center - see below. There's the city museum (next to Apita on the south side, in AM Square) which, if you're desperate, can occupy you for an hour with its dioramas.
Things to See
Jūshi River Sakura Avenue

The single most beautiful thing in Yokkaichi - a lane of over 600 cherry blossom trees that forms a tunnel, along a small river right near Kintetsu Tomida. Unfortunately it only lasts during the short sakura season (first week or so of April).
Events and Festivals
Yokkaichi Festival (四日市祭 Yokkaichi Matsuri)

The first week in August. It is a 10 minute walk from Kintetsu Yokkaichi. On the final day the famous monster float (Onyudo) joins the parade. Don a yukata and join the fun.
Yokkaichi Pottery Festival

Usually held in May, a two day festival famous for its traditional and original Japanese pottery. Held at the Yokkaichi Banko Pottery Center. You may even be able to find some real bargains if you look hard. Take the local Kintetsu train north to Kawaramachi (only takes a few minutes). Check at the International Center for details.
Yokkaichi Fireworks Convention (四日市花火大会)[2]

Held at the end of August. It's about a 25 minute walk from Kintetsu-Tomida station, or a 15 minute walk from JR Tomida. Just follow the crowds. There is a special grassy fenced-in VIP section for important people and those lucky enough to get tickets, otherwise show up early to claim one of the few nice free spots, or be prepared to cram in on the pavement and/or stand.
Services
Re-Entry Permits

You can get your re-entry permit in Yokkaichi. This is the document that allows you to come back into Japan after you have been on holiday to another country. It is a bus ride away. Go out of the south-east exit. The bus leaves near Star Island shopping center, stand number 11, going to Yokkaichi port, you want the last stop, around 15 minutes.
Main Post Office

The 'central' Yokkaichi Post Office is a fair old hike from Kintetsu. Get some comfortable shoes on and leave Kintetsu via the South West exit. Head up Main Street and go across the first major junction (Route 1). At the next junction turn left, keep walking until you pass 105 ginko, take the next right. The main post office is on your left on this street and there is hatch open 'til very late where you can collect parcels etc.
JP Post Office

Take the North exit of Kintetsu Yokkaichi and turn right. Follow the street until you hit the mini crosswalk that leads to the arcades. It's in the Star Island building, right at the corner after you cross the cross walk. Usually open until 5:00pm.
Kintetsu Post Office

Much easier. It's on the 2nd floor of Kintetsu department store. You can send anything bulky from here up to a value of 20,000. Open quite late and on Sundays.
Banks / ATMs

There's a big 105 Bank (Hyakugo) branch immediately outside the south-east exit of Kintetsu, in the entrance to Star Island. Lots of ATMs, and you can even buy a few foreign currencies here for your travels. There's also a Hyaku-go ATM in Apita, next to the all you can eat Italian Restaurant.
The post offices have ATMs where you can use international cards.
7-11 is your best friend in Japan and for anyone visiting you. 7-11 is the conbini that accepts international cards. Also, 7-11 was the only conbini that lets you take money out during Golden Week in case you misjudged how much you were going to spend and need some cash refill. Trust in 7-11.
Yokkaichi International Center[3]

Offers a bunch of classes, including Japanese lessons and the occasional cooking class. Also has free internet and English magazines available.
Shopping
Jusco (AEON)

This store is great. It sells everything from electrical to household goods to groceries to clothes at a reasonable price. Very common in Japan. There is a proper mall called ÆON Yokkaichi North built around a Jusco right in front of JR Tomida Station (about 10 minutes walk from Kintetsu-Tomida Station), and two other standalone Jusco's throughout Yokkaichi: Obira Jusco is located west of the city center on the 477, near Ise-Matsumoto station on the Yunoyama line, and Yokkaichi Jusco is located south of Kintetsu Yokkaichi station along route 1.
Clothing

Star Island, next to Kintetsu, is full of interesting little stores. It also has Print Club on the top floor for when you are really bored.
Apita (LaLa Square) has several floors of homewares and clothing.
Power City can be found by exiting Kintetsu via the South East exit and going up Main Street to the first major crossroads. (Route 1). Turn right and approximately 5km down the road is Power City which has many sports and clothing shops, a pet store, KFC and a cheap(ish) computer store. It's a bit of a hike but there is a bus available from Kintetsu.
There's also a giant Uniqlo on route 1, five minutes south of the Kintetsu. You can get a bus from outside the West exit- take bus number 41 heading to Sasagawa (stand 1) for about 5 minutes, you can't miss it.
Electronics

Yamada Denki is one option and is on the way to Power City as mentioned above. Get onto Route 1 heading south towards Power City and it's on your left.
Eiden is another option; there is one in northern Yokkaichi next to ÆON Yokkaichi North.
Books

The best bookshop is the one on the 4th floor of Apita; there's a small selection of English books, and a large selection of Japanese learning materials. If you want an excellent selection of English books, go to Nagoya, or of course Amazon.jp.
There's also a bookstore right outside the North Exit but no English books are usually available... though if you want to try reading a manga in Japanese, this is the place to be.
Household Goods, 100-yen store

Nitori is a cheap home store which delivers throughout Mie and is located next to Yamada Denki.
Crystal, in the mall near Home Run, is a good 100-yen shop.
Seria is a great 100-yen store on the 4th floor of Apita. Great for stationery, household goods, etc. You can often find little gifts for school prizes here as well, not to mention presents for family...
Food and Drink
Supermarkets
Your local supermarket will stock most of what you need.
Apita

The Apita supermarket is fantastic for treats, some foreign food, cheese, good wine, etc., and Tim Tams if you're Aussie.
Kintetsu

There is a food hall on the first floor that is also well worth a look, lots of interesting things and a nice bakery ('Donq').
Kawaramachi Station

There is a good fruit and veg shop. Exit the station and turn right, head up the road for about 4 minutes and it's on the left.
Amica - foreign food

Located in Akuragawa which is two stations north of Yokkaichi on the main Kintetsu line. It is a local stop and after leaving Akuragawa Station turn right. Keep going until you reach a junction in the road where 3 roads come together, turn left and walk for about 3 minutes. Amica is massive and it's on your right. They sell Tacos.
YamaYa - foreign food

A great foreign liquor store with a huge foreign liquor supply, as well as several aisles of foreign foods, including Mexican food like tortillas and salsa, non-Japanese Asian ingredients, cheeses and pasta. It's on Matsumoto Highway near Ise-Matsumoto station on the Yunoyama Line. If you come by train, leave the station, head towards the main street and turn right. It's about 100ft down the street. You can also take the #80 bus from Kintetsu Yokkaichi, there is a stop immediately in front of Yamaya.
There is also a Brazilian grocer next to Yamaya, in the same parking lot, that sells some good, cheap fruits and veggies. They have an assortment of other goods, such as meat, dairy, lots of frozen goods and various non-western foreign foods as well.
Sanshi

Exiting from the North Exit, turn right and head towards the arcades. Keep walking straight for about 7 minutes and you'll see it on your right.
Restaurants and Bars
There are many many restaurants on the 8th, 9th and 10th floors in the Kintetsu building, they're well worth checking out. Includes sushi, soba, etc. Also, if you leave the station via the north exit of Kintetsu, there are several restaurants worth a look around here as well (and a McDonalds). If you turn right out the north exit and go straight, you will enter the pedestrian arcade. There are lots more small restaurants and bars down this way, especially Japanese-style izakayas.
There is a suburb west of Yokkaichi City called Ikuwa. It takes about 5 minutes by car from the station and it has every kind of restaurant you can imagine, ranging from Chinese to Indian to all you can eat Western/Japanese dishes. Most of the restaurants are on the main road. There is also a baseball batting cage there. Take route 365 from the city center. There is also a bus (#46 I believe) that will get you into the neighborhood.
The Ise-Matsumoto area also has a lot of good restaurants, cafes, bakeries and shops, though they're a bit more spread out than downtown. Get to Ise-Matsumoto station on the Yunoyama line, or take the #80 bus and get off when you see something that looks interesting.
If you leave Kintetsu Yokkaichi station via the north exit, turn right and walk to the pedestrian crossing there will be a amazing cake shop on your left [the hot chocolate is a must!]
Starbucks

Fun fact - Yokkaichi has more Starbucks locations than any other city in Mie!
1. Apita Yokkaichi - Probably the most well-known one, it's in the Apita near Kintetsu Yokkaichi station. From the north exit, go left towards Apita, it's on the ground floor on the left as you enter.
2. Yokkaichi Obira - Just across the street from Obira Jusco. By car it is on the northern portion of route 477 (there are two parallel 477s for awhile). There are several buses from downtown Yokkaichi that go past Obira Jusco, the #46 is the most frequent. By train, from Ise-Matsumoto station on the Yunoyama line, you can avoid the main roads and walk through the rice fields to get there. Just look for the giant purple ÆON tower and walk towards it.
3. ÆON Yokkaichi North - This one's brand spanking new, inside ÆON Yokkaichi North.
4 & 5. Gozaisho Service Area, up & down - there is a Starbucks on each side of the expressway in the Gozaisho service area. You can't get there unless you have a car, obviously, but it's a nice pit stop on your way north or south. The SA is between the Yokkaichi (四日市)and Yokkaichi Higashi (四日市東)exits. You can also get there on the outside without using the expressway if you are feeling up for a GPS adventure.
Za Watami

The perfect izakaya to take visiting friends. Good vibe, good food even though it's a little bit expensive - best to go with a group of friends and share the goodies. Reservations would be good if you go on a busy night with many people but otherwise the wait isn't too bad. Go out the north exit of Kintetsu Yokkaichi Station and turn right. Walk straight for about a minute and you'll see it on your right.
Lanai

Inside the pedestrian mall and has good cheap burgers and great set meals. It's either the first or second left from the main hallway of the arcade. Just take a peek at the corner and you can usually see the sign for it.
Apita

The sushi train is good, but more pricey than your regular kaiten sushi. There's also a KFC, Italian buffet, and of course Starbucks.
Before hitting Apita, there's a relatively new building on your right that holds several restaurants. They have Komeda coffee, a sushi restaurant and a Korean restaurant. The Korean restaurant is delicious!
Kura

Italian restaurant on the 2nd floor, opposite the new building. It'll be on your left as you head towards Apita from the north exit. Nice vibe, good pasta and pizza.
Radi Cafe

It's 3 minutes walk from Kintetsu-Yokkaichi. From the south west exit of the station, go west along the main street past the giant Okamoto furniture store. It's on the left, on the 2nd floor of a brown apartment building - you can see the red lights from the street. Closed Wednesdays.
Jouer de Tamblan

For excellent cake and coffee, which has a lovely tea room. Go out the south west exit of Kintetsu Yokkaichi, walk east down the main street and cross over Route 1. At the next big intersection, i.e. at City Hall, turn left. It's a short distance down on the right side of the road.
Italian

There is an Italian restaurant called Venue in the mall and a really good one on the 9th floor of Kintetsu. There is also spaghetti restaurant above Vee Jays bar which can be found by leaving the station via the west exit and crossing the main street. Go down the alley keeping the Super Hotel on your right. Turn right and walk for about 2 minutes and the Spaghetti restaurant and Vee Jays are on your left.
Togarashi

This is a really good Korean restaurant just outside Kintetsu Yokkaichi's north exit. It's pretty popular so reservations are recommended, especially on the weekends. Go out the north exit and turn left. It's on the second floor, in the same building as Komeda Coffee. It also has branches in Komono and near Kasumigaura Station.
Indian/Nepalese

Lumbini - between the Kintetsu and JR station. Walk down Chuo Dori from the Kintetsu and turn right at the first big fat intersection AFTER you cross Route 1, i.e. at City Hall. Lumbini is five minutes' walk, next to a gigantic wedding chapel. There is also a passable Indian called Maharajha but you have to go to Shinsho for this one. Shinsho is one stop South from Yokkaichi on a local train. Go out of the station and walk straight, (parallel to the storm drain). Keep going past the park and take the 2nd left (I think) after it. Maharajha's is on the left after about a minute.
Everest - another Indian restaurant easily accessible from Kintetsu Yokkaichi. Exit the north exit and turn right, crossing the mini crosswalk and into the arcades. Just keep walking straight for a good 10 minutes, passing Sanshi on your right. You'll see Everest on your left, on the 2nd floor. If you hit the end of the arcade, you've missed it. It's just before the arcade ends.
Kathmandu - exit the south-west exit of Kintetsu Yokkaichi. Keep walking straight on Chuo-dori, and cross the street at the 2nd light. Head towards your right after you cross the street. Keep walking until you hit the 2nd or 3rd crosswalk and make a left, after about 10 minutes walking - you'll see it on your right. Kuwana also has the same restaurant.
Namaste - a pretty new and very delicious Nepalese restaurant in the Ikuwa area, about 5-10 minutes by car out of central Yokkaichi. From central Yokkaichi take route 365, and hang a left at the corner with the hyakugo and mos burger. Namaste is a little ways down on your left.
Vegecube

A vegetarian- and vegan- friendly restaurant in the Tokiwa area (Note: the menu is not entirely vegetarian/vegan, but they do have many options for vegetarians, a few options for vegans, and a happy haven for lactose intolerants as soy milk is used for everything milk-related). By car take Matsumoto Highway from the city center, you'll see it on your left just past the Asahi Cycle shop. By bus, take the #80 and get off at "Tokiwa ni-chome" (just past Asahi Cycles). By train it's a bit of a walk: get off at Nakagawara station on the Yunoyama line, head right out of the exit, then left at Lawson's. When you reach the main street (you'll see Asahi Cycles straight ahead) turn right and Vegecube will be on your left.
OXO British Pub

A pretty new pub in the pedestrian arcade. From the north exit, turn right and head straight into the arcade. It's on the right not too far down. You can't miss it. They currently have a "strong yen discount" of 10-20% available if you show your foreigner registration card, or look sufficiently foreign.
Bar West & Misaya's

The so called gaijin hot-spot of Yokkaichi. Sells food and drink and has no cover charge. Go out of the north exit of the station and go left. Walk to the end of the path with the Miyako hotel in front of you. Turn right and walk under the railway bridge. At the crossroads turn right and less than 20m away on the left is Bar West. (This is where everyone goes after class on Wednesday). Bar West, with English menu, is on the 2nd floor; the ground floor is Misaya's, a cool izakaya.
Subway Bar

A bar and club with a fairly relaxed atmosphere.
Vee-Jays

Is a jazz bar with live bands on Tuesday and Saturday. On those nights it gets expensive but the atmosphere is good. Go out of the south west exit of Kintetsu and cross Main Street. Go down the alley keeping the Super Hotel on your right. Turn right and about 2 minutes down the road you'll find Vee Jays on your left.
Aggie's Cafe, Nadja's

Both owned by the same people. For Aggie's go out of the south west exit of Kintetsu and head down Main Street. About midway turn left into the back streets. It's a bit tricky to write directions to Aggie's but have a crack at finding it, if you like fancy cars you'll like this place. It has pool tables, darts and air hockey and is massive. Nadja's is a bit more laid back. Head the same way but go to the bottom of main street, then turn right keeping the book and video store on your left. About 500m down the road you'll find Nadja's on the left.
Side-6 Gundam Bar

A Gundam-themed cafe/bar with models, goods, costumes, and more decorating the place. Great hangout for otaku.
Asahi Beer Hall

Directly opposite the north exit of Kintetsu. Watch out for their offers on Lowenbrau.
Homes

A small dance club. Take the south east exit from Kintetsu and cross the main street. Walk towards JR and turn right after Cafe de Crie, walk straight and after the 3rd crossroads take a left and you'll see it.
Yudelins

More of a venue than a club, situated right next to Shinsho Station. Leave the station, walk straight ahead to the first road and turn left. In less than 20 seconds you will see the entrance to Yudelins on your left. Good venue for a big party.
Recreation and Entertainment
Yokkaichi Dome

Hosts sporting events. Check the International Center[4] for schedule.
109 Cinema

12-screen complex in Apita, on the 6th floor. If you drive you can get 5 hours free parking in the Apita building, just bring your parking ticket card up to the movie ticket counter.
Bowling

There are two bowling alleys. One is very close to Kintetsu. Go out of the north exit at Kintetsu and turn right. It's on the left above AM/PM.
For the second bowling alley go out of Kintetsu via the south east exit and head up Main Street towards JR and take the second right. It's on the right.
Karaoke

Joy Joy is a karaoke place next to OXO in the pedestrian arcade. Go out the north exit of Kintetsu station, turn right, and walk straight. It's on the right.
Apica Karaoke (NOT Apita) is another karaoke place in the pedestrian arcade; this one is just past the OXO & Joy Joy, on the right, on the 3rd floor of the Apica building. Look for Home Run Pachinko Parlour, which is on the first floor. No outside drinks or food.
Rent A Car is a great, cheap karaoke place where you can bring in your own food and drinks (which makes it even cheaper). The Yokkaichi location is in northern Yokkaichi and is easily accessed by car, it's on route 1 and will be on the right if you're coming from downtown Yokkaichi. You can also get there by train; the closest Kintetsu train station is Kasumigaura. Exit the station and make your way east towards route 1, it's pretty close.
Leisure Center

There is a very cheap swimming pool at the JR end of town. Go out of the south east exit and head up main street, turn right at JR and it is somewhere around there. 3-400 for an hour.
There is also a brand new leisure center near Shiohama station that is a little more expensive but still cheaper than a membership fee.
The Miyako hotel has a gym and swimming pool available for unlimited use during the week for 10,000 a month plus a membership fee of 10,000 p/a. The Miyako hotel is the posh one opposite the cinema. Go out of the north exit of Kintetsu, turn left and when you cross the road you are practically in their car park.
Ride the local train to Shinsho (one local stop south of Kintetsu Yokkaichi). Get off and find your way to Route 1. (Head straight away from the station). Turn left and about 300m down Route 1 on your right you should see an onsen/sento place. However this is just a public bath, nothing attractive about it.
Beach

There is a beach in Yokkaichi tucked in amidst all those ports and factories, believe it or not. Isozu Beach is a small, quiet beach that attracts a handful of local fishing hobbyists, windsurfers and stand-up paddleboarders. Not recommended for large crowds or gatherings. It's located in southern Yokkaichi in the Shiohama-Isozu neighbourhood, just south of where the Suzuka River lets out into the bay.