Shima
From Mie Guidebook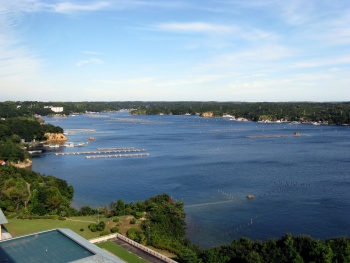 Shima (志摩市 : Shima-shi) is a small city in eastern Mie with a population of about 60,000. A few years ago, there was a big merger of five separate towns and because of this, Shima isn't so much of a "city" as it is a bunch of small towns grouped in the same area.
Shima is well-known for having nice beaches and fishing. Pearls are cultivated here, as well as in the surrounding areas of Toba and Minami Ise.
It is where the Kintetsu train line meets its endpoint (ever seen trains going to "Kashikojima"...yea, that's in Shima)
Name

"Shima" is named after the old province. What is now the city of Shima and the city of Toba used to be their own province during the Edo period, and that was known as Shima Province.
When the city was created after the merger, the name "Shima" was chosen as it has name recognition throughout Japan and covers most of the area that was once Shima Province. People in the towns were actually allowed to vote on the name of the new city and their choice was "Shima".
The word "Shima" is age-old and the origin is hard to trace. It is likely a reference to the Japanese word shima 「島」 meaning "island", however for some reason the province chose to use these more decorative kanji characters.
Old Towns
What is now the "city" of Shima was once five distinct towns:
Ago (阿児町)
Isobe (磯部町)
Shima (志摩町)
Daiō (大王町)
Hamajima (浜島町)
Getting Around
Train
The Kintetsu company serves Shima. The Local (slowest) and Limited Express (Tokkyū- fastest) trains run through Shima, however the express trains that run at speeds between Local and Limited Express only begin in Toba. Shima's stations are all unmanned except for Isobe, Ugata, and Kashikojima stations, which are the only three stations the Limited Express makes stops at. The Local train is also One Man Operated, which means that if you are getting off at an unmanned station you will have to either insert your ticket or pay your fare into a box contained in the first car. At unmanned stations, only the front and back doors of the first car open. At the three manned stations, all doors of both cars open.
Because of the twisty-turny nature of the track from Kashikojima to Ise, unless you are planning to go well past Ise station from Shima, taking and paying for the Limited Express train generally does not save you much time- you gain only about 10 to 15 minutes.
The cost from Isobe Station to Kintetsu Nagoya Station on the limited express one way is ¥3,090 and takes about two hours. This is most likely cheaper than the cost of gas and actually a bit quicker than going by car.
Bus
Sanco runs a variety of buses around Shima, but prices add up pretty quickly.
Car
Having a car is recommended in Shima depending on which part of it you are in, as it is extremely spread out and so getting by on a bicycle can be challenging. However, depending on your location, you can certainly get by using just your feet and the trains if you are placed close to a station. Two main roads lead to and from Shima, one of which is Ise-dori. Ise-dori bypasses Toba and cuts around and through mountains that actually belong to the Imperial Family. While Ise-dori is the fastest way out of Shima, the road is treacherous, very narrow, full of curves that almost bend at 90 degree angles, very long tunnels, what many would call sub-par guard rails, and is often the scene of car accidents. If you do decide to drive in and around Shima by Ise-dori, please use caution and do not feel pressured to speed by other drivers around you.
Local Attractions
The city, Isobe in particular, is home to Shima Spain Village. It's a Spain-themed amusement park with a couple of decent rides amidst a load of crappy ones. It contains two roller coasters (a wooden one and one where your feet dangle- the latter gives you a dazzling view of Shima), and several other smaller, often odd, attractions. If you are in Shima, it could be worth visiting at least once. Equipped with a sense of humor, however, can make the place more entertaining than it should be.
The Kintetsu company runs a ferry service that goes from Kashikojima and serves various islands in Ago Bay, including Wagu. The ferry takes around 30 minutes to reach its last stop and costs about ¥600 one way. The service also has a scenic ferry tour given on a large replica Spanish-style ship, in the spirit of Shima Spain Village, that goes around Ago bay for around 45-50 minutes for about ¥1,400. The "ship" is three levels, with the third level being the deck of the ship. The insides are lush, containing plush sofas and chandeliers.
Scenic Spots
Yokoyama Observatory (横山展望台 yokoyama tembōdai)

There's an observatory on Yokoyama that gives a great view of the whole Ago Bay
Daiōzaki (大王崎 daiō zaki)

A gorgeous little town with a small lighthouse, well worth a visit. From Ugata station take bus 60 from stop number 2 for about 40 minutes (¥400 ish). It's ¥200 to get into the lighthouse and the surrounding area is very scenic. Don't forget your camera.
Anorizaki Lighthouse (安乗崎灯台 anori zaki tōdai)

Another lighthouse, about 20-30 minutes from Ugata. It is immediately north of Kō Beach.
Events and Festivals
Shima has a wonderful marathon every April. There are 10km and half-marathon courses. The route is beautiful, but rather tough due to the number of hills. It's rated in the top 100 marathons in Japan and I would highly recommend it to anyone who enjoys running.
Services
Shopping
Ugata contains an Aeon on the outskirts of town but requires a bus to reach.
Toba may have Mikimoto Pearl Island, but Kashikojima is the center of the Mikimoto Pearl company's oyster cultivation operation, amongst those of other competing companies as well. Because of this, pearl shops line the street leading from the station down to the water. Pearls, therefore, are almost a dime a dozen. If you're looking for something nice to buy someone in the realm of pearls, go down to Kashikojima to get the best deals right from the waters they came from.
Food and Drink
Isobe, Ugata, and Kashikojima are home to a varying number of small cafes. Isobe's cafes are probably the least frequented, due most likely to a predominantly elderly population not overly interested in that sort of thing, creating a kind of odd "ghost town" effect with its establishments. Ugata, however, has a livelier population with several cafes even just outside of the station.
Supermarkets
Isobe has Alpha grocery store. Far from being a 'supermarket', they can still provide you with a decent selection that rotates from time to time with friendly staff.
Restaurants and Bars
The Standard - Official website

A Shot Bar run by a cute and friendly Japanese couple, Shinji and Kyoko. Close friends of former ALTs, they would love for you to visit. Visit Goza-shirahama during the day, drink away the evening at The Standard. This bar is located in Wagu, a town on an island between the Pacific Ocean and Ago Bay. You can access the bar by ferry (Kashikojima dock), bus (Ugata station), or car. Taxi from Kashikojima is not recommended, as it will put you out over ¥5,000.
Recreation and Entertainment
Kō Beach (国府白浜海水浴場 kō-shirahama kaisui yokujō)

One of the best beaches in Mie Prefecture; popular amongst surfers from far and wide. Location of the annual welcome beach party.
Goza Beach (御座白浜 goza-shirahama)

Smaller than Kō Beach but definitely one the most beautiful white sand beaches in Mie Prefecture.
By Car: From Ugata, travel along the Route 260.
By bus: 2-minute walk from Goza Shirahama Bus Stop after 60-minute ride on buses heading to Goza-ko from Ugata Station on Kintetsu Line, or 10-minute walk after 25-minute ride on scheduled boat service from in front of Kashikojima Station on Kintetsu Line.