Minami Ise
From Mie Guidebook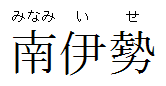 Minami Ise (南伊勢町 Minamiise-chō) is a rural fishing town in eastern Mie with a declining population of about 13,950. The area is actually a combination of two even smaller towns (Nansei and Nantō) that have been combined to form a larger but still very rural town. Much like the rest of Japan, the population of Minamiise has been steadily declining. However, as with most rural places, this has hit Minamiise very hard. The present population is said to be less than half what it was thirty years ago.
"Minami Ise" probably wins the competition of most uncreative name in Mie. It means "South Ise" - as it is the municipality immediately south of Ise. Furthermore, name is relatively new and was chosen at the time of the Nansei/Nantō merger in 2005. You'd think they could have come up with something more creative, eh?
Minamiise Town Website. And the English Version.
Photos
General
Minami Ise's economy has historically been based on and around fishing, and as recently as 2009 the town's annual aquaculture and fishing output was 48.6% of the total for Mie Prefecture. This includes products such as oysters, abalone, turban shells, and aosa seaweed. The town is also known for its citrus produce such as mandarin oranges (mikan), persimmons, and plums.
Minami Ise has the following
old men and women.
some children.
amazingly clean oceans.
bars with sketchy food.
amazing sashimi.
slugs, mice, hawks, wild boar, all sorts of fish, squid, and shellfish, monkeys, crabs, deer, beetles, bees, wasps, spiders the size of your head, meter long snakes, etc. (None of this is a joke.) And, of course, those crazy motherfuckers with all the legs and the pinchers more commonly known as mukade, some of which get quite large -- Minami Ise will give you a rich sampling of local wildlife
temples.
shrines.
waterfalls.
mountains.
sakura trees.
summer homes.
hiking.
beautiful vistas.
beautiful bridges.
bus stops.
chinese workers.
fishery researchers.
fishermen and fish farms.
rice paddies.
abandoned schools.
long roads to nowhere.
roads that oscillate between deadly games of cat and mouse with oncoming traffic, curves, mountains, and valleys.
highway quality tunnels.
scary tunnels.
narrow roads.
rock slides.
bays.
local cuisine.
a 200 second stop light.
a 200 second stop light that turns off after 11pm, forcing you to play a deadly game of chicken with giant trucks.
Minami Ise lacks the following
youth.
shopping malls.
nationwide banks.
smog.
a konbini outside of the Nansei section.
quick and easy physical access to the outside world.
bars with normal food.
trains, period.
shortcuts, unless you consider Tsuruge Toge between Ise Shrine and Gokasho a "shortcut."
stores that stay open late.
intelligable english.
a long straight stretch of road.
Getting Around
Cars
Minamiise is approximately fourty-five minutes to an hour from Ise. For those traveling into Minamiise, coming by car will be the most convenient method of transportation. While there aren't many convenience stores, there are many roadside maps that may or may not aide you when traveling through. The major road that cuts through the town is Route 260, and much of this road is well paved and cared for.
For those that are residing in Minamiise, you will probably find that having a car is not a luxury, but a necessity. Given that the area is quite removed from larger cities, shopping centers, train stations, etc., having a car to reach these places is often a must as the town's public transportation is limited. Also, it should be kept in mind that traveling by car from one end of the town to the other lengthwise takes around an hour.
Buses
Buses can take you to Ise but they are slow, run infrequently, and stop running rather early in the day. The buses that run in the town are also slow, infrequent and stop running early in the day. . . however, they exist and can be used if necessary. Prices vary depending on the distance traveled.(Payment Schedule).
(All Links are to Japanese sites)

Services
Banking
Local banks are limited to Hyakugo (105) Bank, JA (Japan Agriculture) Bank, and the Post Office.
Locations
Hyakugo: Gokasho
JA: Ise Nansei, Ise Hohara, Ise Ugura, Ise Nanto
Post Office
Locations: Gokasho, Kirihara, Shukutaso, Nankai, Hasama, Nakashima, Taishi Kara, Togu, Nanokouchi, Nanto, Hozaura, Shimazu
Civil services
All services are administered at the Nansei and Nantō town offices respectively.
The Board of Education is located at the Nanto Branch.
Hospitals
Minamiise Town Hospital
Nanto Medial Center
Utilities
Cell Phones
There are no stores that sell cell phones in Minamiise. You will have to go to Ise, Shima, Taki, or Meiwa.
If you intend to bring a sim-free cell phone with you to Japan, your only option will be NTT Docomo (locations), which incidentally also has the best converge in the town and in the country overall. Both Softbank (locations), and AU do not allow phones not locked to their services on their network.
Internet and TV
There is only one provider, ZTV, formerly ITV, which provides a range of speeds and packages. Unfortunately, there are no fiber optic lines in Minamiise.
Water, Gas, and Electricity
Depends on your apartment. Discuss this with your supervisor and land lord.
Shopping
Grocery Stores
Minami Ise is home to a few small grocery stores.
Gyuutora - Nansei

Directly in front of the entrance to Nansei Junior High School, this grocery store has most of your basic needs covered. There is also a small pharmacy and household goods store (inside) and a dry cleaner (located on the front right side of the building). Also, be sure to check out the 'おおきな' section in the front of the store that sells local products.
Shufunomise (Alpha) - Nansei

Between the Gokasho 105 Bank and Post Office. This grocery store has a smaller selection than Gyutora but is centrally located in Gokasho-Ura.
Alpha - Nantō

Near Naya, directly across the street from the hospital.
Kotobuki - Nantō

Multiple locations, one near the town office in Nantō. Smaller selection than the larger stores but good for basics. Also has a surprisingly large variety of bentō and prepared foods.
Specality Food Stores
---
Convenience Stores (コンビニ)
Minami Ise is home to two convenience stores and a host of other smaller establishments. There are also several convenience stores on the outskirts of town in all directions.
These are some of the more conveniently located stores.
Family Mart (ファマリーマート)

There is only one Family Mart, and it's in Funakoshi.
---
Gas Stations (ガススタンド)
These places all serve vehicular traffic, however, it is also possible to buy gas from some of the fisheries, although it can be rather arduous to do so.
Showa Shell

Located in Gokasho, Nansei, across from the 105 Bank.
Idemitsu

Located in Funakoshi, Nansei, near the intersection of Sunny Road and Kokudo 260.
JA SS

Located in Michikata, Nanto, near the intersection of Route 22 and Kokudo 260.
In addition to gasoline (石油/ガソリン )you can also buy kerosene (灯油)from these stations.
---
Miscellaneous
Nakanishi Denki

Located in Gokasho, the shopowners are very friendly and will often help you find the lowest price they can on household appliances. They will even order it for you and have it shipped to the store or your home. However, they can't oder game systems or games, for that you will have to go to Ise, Shima, or Meiwa. (Japanese skills required.)
Sakurayama Garage

Located accross from Nakanishi Denki, with friendly, professional service and reasonable prices, there is little reason not to use this local shop. (Again, Japanese skills required.)
Shima-Shi

Only a quick 20-30 minute drive from Gokasho, Shima offers a wide range of shops and chain stores that complement local offerings and provide a wider selection of goods.
Komeri

A hardware and goods store next to Gyutora in Funakoshi.
Food and Drink
There is only one chain restaurant in Minamiise, and it's the Ajihei in Funkoshi (Nansei).
Nansei
Located in Funakoshi, Noa is a local manga cafe with affordable and filling cuisine. The daily lunch special is always a recommendation, and it usually runs between ¥600 and ¥900. Unfortunately, their days off are literally at the wims of the shop keeper, so you'll never know if they are open or closed unless you go and see for yourself.
Located in Gokasho, and while ostensibly a cafe, Five is widely known in the area for its delicious curry and fried shrimp. Although a little on the expensive side, the food is good and they run a special on their fried shrimp every Friday which makes the price more palatable.
Closed on Thursdays.
Located in Gokasho, it could easily be mistaken for a farm supply shop. Their specality is spaghetti.
On the corner of Sunny Road and Kendou 260 across from the Gyutora and next to the Family Mart in Funakoshi, Rai Rai Ken serves up some yummy Japanese-Chinese cuisine and has been a staple of the area for quite a while.
Rai-Rai Ken (no connection to the previous shop)
Located behind the Hyakugo Bank in Gokasho, this shop also specializes in Chinese style food, but their secret weapon is that they are open late. Most things on the menu are pretty good, but do yourself a favor and avoid the gozya.
Off in remote Kansa down a narrow street with no guardrails next to a small stream with a precipetious drop (what's new), this small cafe offers a bang for your buck and some deliciousness on the side.
A staple of the Gokasho area, they offer a few variants of ramen, some donburi, and sushi. Fairly priced and relatively quick.
Next to the Gyutora and across from Rai Rai Ken, this shop is known for its fish, and with good reason. Also, if you go fishing and catch something, you can bring it here and they will cook it for you, at a price of course.
One of those sketchy bars mentioned earlier. Located below the Minamiise Town Hospital in Gokasho.
There are a few others, too. Like an Unagi (Eel) restaurant in Gokasho, etc..
Nanto
There are a few good restaurants scattered along Kokudo 260 throughout the Nanto Section. However, they are all local shops and their operating times vary.
Two examples are:
Take the road next to the Alpha, it will be on the right.
In Michikata along route 260. They have a mean negi-toro donburi.
Recreation and Entertainment
Minamiise is known for its fishing.
Hiking is also a possibility, especially if you don't mind being it being more of an off the beaten track experience. If that is the case it can be quite enjoyable and the views are worth it.
Swimming is possible in designated locations in the rivers and at specific beaches.
And, if you have some time and can read or listen to and understand Japanese, there are many stories such as this one.
Local Attractions
Things to See
Twisting roads, scenic cliff side views, and hordes of wildlife.
Minamiise is also a part of the massive Ise-Shima National Park. Below are some notable areas that may be of interest.
(All Links are to Japanese sites)

Events and Festivals
There are various local celebrations throughout the year as well as special events organized by town officials.
As far as large festivals go, the biggest is the Ebi Matsuri held every summer in Hamajima (techinically part of Shima), that many people from the Nansei area take part in.
The afore mentioned English section of the town website has some good suggestions of places to see and things to do.