Kuwana
From Mie Guidebook
Kuwana (桑名市 : Kuwana-shi) is a decent-sized city at the top of Mie, is the last major station before Aichi Prefecture, and has a population of about 140,000.
This small city is often overlooked because of its large neighbor across the river, Nagoya. Kuwana might not look like a very exciting place from the train window, but it is a great place to explore and get to know better. From our genki summer festival to the superb shopping at MyCal Kuwana, there is nice mix of old and new in Kuwana.
Historically known for its location on the Nagara River, it was a main stopping place for travelers going between Tokyo to Osaka. History can be found tucked away in every corner in this rapidly expanding city.
It's famous for being the 'city of cranes' and for having the best 'hamaguri' (baked clams) in Japan.
Name

"Kuwana" is kind of tough but it could be potentially be translated literally as "Name of the Mulberry".
The name is really old and hard to trace the origin of, but it is said that the kanji in "Kuwana" were the name of an old lord - so old ago that the kanji were pronounced totally differently but at some point in history the name apparently stuck.
Transportation
Kuwana is built-up enough that a bike is sufficient for most JETs.
Train
Kuwana (桑名) Station is a major station on the Kintetsu, the JR, and a terminus for two smaller railways.
JR
The Local, Express, "Mie Rapid", and Limited Express stop in Kuwana. There's no point riding the limited express if going to Nagoya as it will save you hardly any time and cost you extra money (¥500). It is convenient for getting down south though.
Both JR and Kintetsu run straight to Nagoya, paralleling each other so closely it is practically the same track. JR runs less frequently than Kintetsu, but it also costs ¥100 less - one of the rare times when the JR in Mie is cheaper than Kintetsu. Also, if you plan to stay late in Nagoya, the JR return trains to Kuwana run later with the last train at 23:56.
Kintetsu
It takes about 25 minutes from Nagoya and about 45 minutes from Tsu by Kintestu express. The fare to Nagoya on Kintestu is ¥430. This is how you want to get around most of the time because Kintetsu runs far more frequently than JR, however the last train from Nagoya to Kuwana is earlier than JR's. However, the first train in the morning belongs to Kintetsu (05:30).If dipping down into Mie, Kintetsu is the way you want to go unless you're going to a JR-only destination.
Other than the Namba-Nagoya direct tokkyū, all trains stop at Kuwana Station.
Yōrō
The Yōrō Line, formerly owned by Kintetsu and now owned and propped up by local governments, runs once an hour to Ōgaki, stopping at Tado, Harima, and Kuwana-Kita High School along the way. The ride is extremely slow and bumpy due to the old track, and so if going to Ōgaki it may very well be faster to Kintetsu up to Nagoya and then JR from Nagoya to Ōgaki.
Sangi
The Sangi Hokusei Line, also formerly owned by Kintetsu and now owned by local governments, originates not from Kuwana Station itself but from a nearby station called Nishi Kuwana. The entrance is right in front of the bus rotary (out the JR side and to the right). The Hokusei Line runs once an hour to Ageki, and twice an hour to Kitaoyashiro.
Bus
There are lots of buses running around Kuwana, most of them caught at the rotary outside the JR side of Kuwana Station. People going to MyCal, Nagashima Spa Land, or Nabana no Sato
Local Attractions
Scenic Spots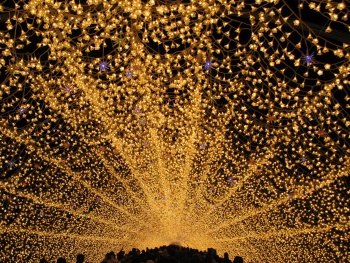 Nabana no Sato (なばなの里) - on Nagashima

Beautiful park full of flowers, nice eateries, and onsen, and other nice stuff. It's technically a theme park, but if there was a theme it'd really be "beauty". It's hard to describe any other way. Has various flower "festivals" throughout the year with huge fields of different types of flowers being featured around the park. The crowning jewel on this place is the amazing illumination that is held every night for four months in winter (mid-November ~ mid-March). It is one of the finest illuminations in Japan and is something you really shouldn't miss in your time in Mie. Come on a weeknight if you live close enough, as it can get crowded on the weekends.
Kyūka Park (九華公園 Kyūka Kōen)

This is Kuwana's main park. It is about a 10 minute walk from Kuwana station. It is popular in the spring for its hundreds of sakura (cherry blossoms). It is open late at night during this period, and it is packed with locals celebrating under the cherry blossoms - a great atmosphere. In mid May the park is filled with beautiful Azaelea (?) blossoms. To the north side of the park is the Nagara River and a small field.
Kasuga Shrine (春日神社 Kasuga Jinja)

This is Kuwana's most famous shrine. It is situated about 10 minutes from Kuwana Station and is near Kyuka Park. This area is the final destination for the large dashi carts pulled around during the Ishidori Festival in August.
Hashiri Izun Temple

There is nice little temple behind Umamichi Station (Hokusei Line) and near Masuo Station (Kintetsu). The temple is surrounded by thick trees and is apparently home to Buddha's Footprints. In the spring the entire hill is pink with cherry blossoms. On August 10th the Tokano Matsuri is held at the temple. There are many small shops set up and photos from WWII. Beside the temple is a real lawn area, perfect for picnics! It is popular with the local children for soccer.
Rokkaen

Not sure what to call this structure but literally half of the building is based on traditional European architecture while the other half is traditionally Japanese with tatami rooms. A beautiful garden surrounds it. Well worth a visit if you've got a couple hours free. It's located on the river road about 15 min walk north of Kyuka Park. Entrance costs ¥300 and admission to tea ceremonies usually cost and additional ¥500.
Tado Shrine (多度神社 Tado Jinja)

This is just a few stops north of Kuwana. The shrine is home to a white horse and all of the local festivals center around it. There is an arrow shooting festival in the November when local race down a narrow path and shoot their arrows at a row of targets. In May is another festival where horse and rider try to jump up a small cliff. From the shrine you can take an easy hike to the top of the mountain. There is a beautiful grassy park at the top, and a fabulous playground too. On a clear day you can see all the way to Yokkaichi in the south and Nagoya in the north. There are also a series of good mountain bike tracks that begin at the top of the mountain, right next to the grassy field. For a look at Japan's inexplicable side, take the blue route, and stop to admire the cars that have run off the side of the trail.
Yoro Waterfall (養老の滝 Yōrō no Taki) - This is not referring to the chain izakaya, it is referring to the actual waterfall that is the restaurant's namesake.

Take the Yōrō Line from Kuwana Station to Yōrō (養老) Station. The waterfall is about a 20 minute walk away from the station. It is a beautiful area where lots of the local schools go on outings. Yoro Park is also nearby and includes an architectural experiment called 'The Site of Reversable Destiny' (!) which is a really interesting and a totally immersive experience, there are parks covering most of the distance from the station to the waterfall, and it makes for a really pleasant day. If you get yourself over to Harima (播磨) Station, you can take your bike on the train, which is a great way to explore Yoro and everything else up this train line (though I think you can only do this from 9 to 5, so don't miss that last bike train!)
Events and Festivals
Ishidori Matsuri

This is Kuwana's biggest and noisiest festival. It is held over the first weekend in August, and Ishidori involves pulling huge dashi (festival carts) around the streets of Kuwana. The last day (Sunday) is the best because this is when the 30-40 dashi converge at Kasuga Shrine. The site of all of these carts is spectacular. The festival cards are adorned with large and small taiko (drums), which the locals beat nonstop all weekend! From Kuwana Station, just listen for the loud music that is coming from the direction of Kyūka Park.
Crane Festival

This colorful festival takes place at the end of October. It is fantastic to see the millions of cranes made by local groups, and schools. The festival centers around Kasuga Shrine with performances by local taiko groups and lots of traditional dancing. It is also a good place to try hamaguri (Kuwana's baked clam specialty). At the end of the weekend, all of the cranes are burnt by the master of the festival.
Fireworks

Kuwana has a pretty good fireworks display held over the Nagara River. The fireworks go off on the last Saturday of July. The best place to watch the fireworks is from the north side of Kyūka Park, or anywhere along the river.
Services
Shopping
Jazz Dream - At Nagashima Spa Land

Outlet shopping mall, was the Tōkai area's biggest until the Toki Outlets (Gifu Prefecture) opened in 2007.
Food and Drink
Supermarkets
Chain Restaurants
Local Restaurants
Recreation and Entertainment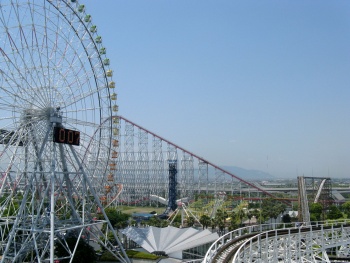 Nagashima Spa Land - On Nagashima

Biggest amusement park between Tokyo and Osaka. One of the only major amusement parks in Japan that is based on thrill rides, so if you like roller coasters get yourself to this place - you may be able to invite yourself along on the school field trip! Also has a huge waterpark open in the summer, an onsen (as the name would imply), and (until 2007) the Nagoya area's largest outlet shopping mall.