Kihoku
From Mie Guidebook
Kihoku (紀北町 : Kihoku-chō) is a "town" in southern Mie between Odai and Taiki in the North and Owase in the South and is the first stop in the Deep South. As of June 2014, Kihoku had an estimated population of 17,561 (and dropping).

The name "Kihoku" means "North Kii" and is a slightly uninspired name that came about when Miyama and Kii Nagashima merged on October 11, 2005. Kihoku is home to Camp Inn Miyama, a campsite that many of us Mie JETs descend upon and take over for a weekend of fun in June. In total, Kihoku has 4 Junior High Schools and 11 Elementary Schools divided between two JET participants; there was once a High School in Kii-Nagashima, but it has since been renovated and turned into Kihoku Town Hall.
Because Kii-Nagashima and Miyama are two very distinct towns (~20 minute train ride apart from one another), this page has been created to reflect this divide.
Kii-Nagashima (紀伊長島町)
Kii-Nagashima (or Nagashima, as the locals call it) employs 1 JET to teach at 2 Junior High Schools and 6 Elementary Schools
Getting Around
Train

The main station is Kii-Nagashima (紀伊長島駅) Station on the Kisei Main Line. This station serves both Local and Limited Express trains. The other station in Kii-Nagashima, Minose (三野瀬駅) only serves Local trains.
Services
Shopping
Food and Drink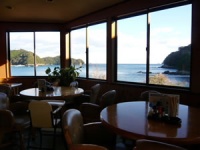 Futaba ふたば - Open 5:00pm-9:00pm Tues-Fri; 12:00pm-9:00pm Sat/Sun; closed on Mondays; Address: 三重県北牟婁郡紀北町紀伊長島区三浦762

This place cannot be hyped enough. It's a little hard to get to, as it is only accessible by car, but it is completely worth it. They are actually famous for their spicy/salty buffalo wings which have appeared on NHK before. It overlooks the water and is probably the prettiest restaurant in all of Kihoku.
Kappa - Open 10:00am-10:00pm; closed on Mondays; Address: 三重県北牟婁郡紀北町紀伊長島区東長島2419

This a secluded little cafe right on the lake in town. It features lots of western style food and is great place to bring a date as it has a romantic atmosphere to it.
Ran-Ran Farm: Fresh Egg and Sweets - Open 11:00am-7:00pm; closed on Wednesdays; Address: 三重県北牟婁郡紀北町紀伊長島区長島629-1

This place has wonderfully delicious sweets! The cream puffs are to die for! It's a quick easy stop on Route 42.
Recreation and Entertainment
Events and Festivals
Shrines and Temples
Miyama (海山区)
The rural town of Miyama roughly translates to "Sea Mountain" and is home to about 6,000 people. Miyama (not to be confused with Mihama) employs 1 JET to teach at 2 Junior High schools and 5 Elementary schools.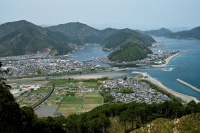 Getting Around
Car

Owning a car is not essential to survival in Miyama, but it sure makes life a whole lot easier. Miyama literally has no place to shop for things other than food (excluding Komeri), making a car absolutely essential in some situations.
Train

Like Kii-Nagashima in the north (and all of the Deep South), Miyama is only served by JR trains. The main station in town is Aiga (相賀駅) Station on the Kisei Main Line. This station serves only Local trains. The other station in Miyama, Funatsu (船津駅) only serves Local trains as well.
Bus

Most locations in Miyama are easily accessible by local Sanco bus. They tend to come once every hour to hour and a half, but the last bus usually runs around 5:00pm or 6:00pm.
Highway and Night Buses

A reasonable solution for those traveling longer distances, these express buses are often both faster and cheaper than taking the train. The night bus to Tokyo leaves from Sanco Miyama at 9:45pm each day and arrives outside of Ikebukuro station the next morning at 6:05am (one-way = ¥9,170; round-trip = ¥16,510). There is also an express bus to Tsu station for ¥1,900 which takes 2 hours (buses returning to the Deep South from Tsu station leave from Bus Stop #3). There is also an express bus to Nagoya which takes about 3 hours and costs ¥3,000 one-way and ¥5,000 round-trip.
Biking/Walking

Because Miyama is relatively flat, biking and walking are both comfortable and easy to do, assuming you aren't swimming in rain.
Services
105 Bank - Open M-F 9:00am - 3:00pm (ATMs open 7:00am - 9:00pm); Address: 三重県北牟婁郡紀北町海山区相賀1942番地の5

Easily the best bank in town. It is very centrally located in Miyama and there are many branches throughout Mie Prefecture for when you are on the road. If you don't want to bank with 105, other options in town include: Daisan Bank, Bank of Kihoku, and the Post Office.
Police Station - Open 24/7 (technically) Address: 三重県北牟婁郡紀北町海山区相賀388-1

The "police station" is located near Aiga station and Aiga Elementary school. It's likely to be unlike any police station you've ever seen before, as the building is basically the officers house with a small room in front for police business. There is simply a door separating the living quarters from the small room that is the "police station." It's a great example of the way things are done here.
Post Office - Open M-F 9:00am - 5:00pm (ATM open Mon-Sat, 9:00am - 5:30pm); Address: 三重県北牟婁郡紀北町海山区相賀312-6

The main post office in town provides your basic mailing needs and has a pair of ATMs for those who bank with Japan Post.
Hospitals -

There are several small clinics in Miyama which can help with minor injuries and illnesses. For more serious situations, you will need to head south to Owase Hospital.
Miyama Public Office - Open M-F 8:30am - 5:00pm Address: 三重県北牟婁郡紀北町海山区相賀495番地8

This building served as the City Hall for all of Kihoku up until the end of 2012. Starting in 2013 (with renovations to the former Kii-Nagashima High School being completed) the City Hall was moved to Kii-Nagashima. Now the Miyama Public Office serves as an auxiliary branch, but can still take care of all your official paperwork needs, including taxes, pension, residency, and registering your personal seal. As this is where the Kihoku-cho Board of Education Miyama Branch is located, this is where the Miyama JET will spend his/her time when school is not in session.
Shopping
Shufu no Mise - Open 9:00 ~ 22:00, 7 days a week

Offers everything you would expect from a grocery store.
Price Cut - Open 9:00 ~ 23:00, 7 days a week

A slightly cheaper alternative to Shufu no Mise. It stays open a little bit later which is nice! It is located next to Komeri.
Circle K - Open 24/7

The only convenience store in town is located along Route 42 at the very northern end of town.
Moriyama Drugstore - Open ???

As you would expect, Moriyama has a better selection of medications, soaps, and cleaning supplies than either Shufu no Mise or Price Cut. They also have a small selection of food and drinks, most of which are not carried by Shufu no Mise or Price Cut.
Komeri - Open 9:00am-8:00pm (9:30am-8:00pm on Sundays and Holidays)

There are several Komeri in southern Mie. Like a cross between a Home Depot and Wal-Mart, the one in Miyama is relatively small (and with a rather limited selection) when compared to the Komeri in Owase.
Food and Drink
Ya Ya - Open 11:00am-2:30pm & 5:00pm to 9:00pm; closed on Tuesdays; Address: 三重県北牟婁郡紀北町海山区中里62-4

A great restaurant serving western style dishes... try the pizzas!
Banrai - Open 11:00am-9:30pm; closed on Thursdays; Address: 三重県北牟婁郡紀北町海山区船津1381-3

A Chinese restaurant with good food and some pretty cool fish tanks. This place is usually pretty crowded.
TanTan Men Ramen Shop - Open 11:00am-midnight (last order = 11:30pm); Address: 三重県北牟婁郡紀北町海山区船津1708

A small little ramen shop which has a small selection of spicy tantan ramen. Its cheap and open until midnight (making it a nice pit-stop for late night travelers).
Manten - Open 11:30am-2:30pm & 4:30pm-9:30pm (last order = 9:00pm); Address: 三重県北牟婁郡紀北町海山区船津1654-4

A yakiniku restaurant offering customers their own private rooms (each with its own AirCon!) and a great selection of meats. Women eat cheaper on Thursdays as it is Ladies Day.
Yoshida - Open 11:00am-2:00pm & 5:00pm-10:00pm; closed on Sundays; Address: 三重県北牟婁郡紀北町海山区相賀2048-42

A Japanese Izakaya style restaurant. It has decent food and is located in Miyama proper.
Mon petit coco (モンプティココ) - Open 10:00am-6:30pm; closed on Wednesdays & the 3rd Sun/Mon of each month; Address: 三重県北牟婁郡紀北町海山区船津739-6

Don't let appearances deceive you... this tiny little hut in the middle of nowhere has the best cakes and sweets of any shop in town. Prices are a bit on the expensive side, but the deliciousness of the goodies are worth it.
Recreation and Entertainment
Camp Inn Miyama -

Gorgeous campground to which many Mie JETs descend upon during the month of June.
Karaoke -

カラオケエール: Located on the southern end of town, this great little Karaoke place is conveniently located about a 2 minute walk away from the Miyama JET's apartment.
Beaches -

Wagu Beach (和具の浜): Easily the best forgotten little beach in all of southern Mie. It is only accessible by bus or car, but it is definitely worth the trip. It is ideal for swimming or just soaking up the sun. Swimming season is from July-August.
Yaguchi Beach: A rocky beach better suited to BBQing and hanging out rather than swimming. It is a short walk from some nice tennis facilities.
Hiking -

Magose Toge: The entrance to this popular hiking path is located about a 20 minute walk from Aiga station and is located on Route 42. At a leisurely pace, you can get from Aiga Station to Owase Station in about 3~4 hours. Most people stick to the main path, but if you are feeling adventurous (and are with someone who knows the way) you can climb to the very top of Mt. Tengura. It's not easy, but a spectacular viewing point and a great place to eat lunch awaits those who go beyond the normal path.   
Hiking safety: It may seem obvious but always remember never to hike alone, pack plenty of liquids, and allow yourself enough time to make it down before sunset!
Events and Festivals
Gonbei Festival (Held Mid-February on Vernal Equinox, 春分の日) - This event is held every year on the beautiful Gonbei grounds along the Choshi river. This picturesque park/pond area is transformed into a fairground of sorts for the day with dancing, food stalls, taiko, and children's games.
Tanabata Festival (Held Early-mid July) - Participants write a wish and put it in a floating lighted orb. The wish is then sent down the Choshi river and out into the ocean. It is estimated that about 2,000 wishes/orbs are sent every year and it is said the river becomes the Milky Way for the night.
KODO Raft Race (Held ~August 11th/12th) - This event features competitors racing their rafts along the shores of Miyama. Some are professionals who bring well constructed and sea-worthy rafts, while others are amateurs who attempt to race nothing more than a slightly modified door.
Hikimoto Shrine-Boat Festival (Held 3rd Sunday in October) - Young (and old) men of Hikimoto village pull an exquisite boat-shrine through the narrow streets of the small seaside town. This festival originated in the Edo period with the locals praying for both a good catch and the safety of the town fishermen.
Shrines and Temples
Garbage Disposal
Garbage disposal in Miyama is fantastically easier compared to almost every other city/town in Mie.
Burnables must be placed in either transparent or semi-transparent bags (can be bought at either Shufu no Mise or Price Cut). There is no colored bags system like is used through the rest of the prefecture! For those living in the Aiga neighborhood of Miyama (i.e. the JET), burnables are collected on Mondays/Thursday and must be in the designated green-netted collection area before 8:30am when the trucks start to do their rounds.
If something doesn't fall under one of the following categories, then it can be placed in your burnable trash.
PET bottles (rinsed; bottle caps removed and placed in container attached to collection bin)
Glass (rinsed; labels removed)
Aluminum cans (rinsed; labels removed)
Newspapers (bundled with plastic ribbon)
Magazines (bundled with plastic ribbon)
Cardboard (bundled with plastic ribbon)
Clothes

The above items should all be taken to a designated "trash center." These consist of several blue bins to sort your bottles/cans into and a small shed area to stow your bundles of cardboard/newspapers/magazines. These trash centers are outside and can be accessed 24/7 making them extremely convenient. There are two which are especially convenient for the JET positioned in Miyama. The first is located on the corner near the railroad crossing on the way towards Chonan JHS and the other is located on the northern end of Miyama Gym (located across from Miyama Public Office).
Trivia
Miyama was once considered to be one of the worst JET placements in Mie Prefecture because of the provided housing. The toilet was a drop-style (i.e. wonderful-smelling, non-flushing, hole-in-the-ground) and the shower was detached from the house. On the bright side, rent was cheap at only ¥3,500 per month. The JET participant has since been moved to regular toilet-flushing and inside-showering accommodations.