Kameyama
From Mie Guidebook
Kameyama (亀山市 : Kameyama-shi) is nestled near the mountains that separate Mie Prefecture from Shiga Prefecture. It has a population of about 50,000 and is home to JR Kameyama Station. It's famous as one of the stations on the old Tōkaidō (Edo-era road between Tokyo and Kyoto), tea, and candles.
It is also home to a giant Sharp factory which produces a LCD screen TV that is famous throughout Japan.
General
Chances are the name rings a bell. Hmmm...Kameyama...Why do I recognize that name? Well, truth be told, the recognition comes not because it has a great night life or world class shopping and dinning but because on the JR, sooner or later, all roads lead to Kameyama. Anyone who has ridden the JR (or for those of you just arriving, will soon be riding the JR) will have likely found yourselves on a Kameyama-bound train (Kameyama yuki desu) at one time or another. It's just as likely however, that none of you have stuck it out until the end of the line. No, no, you would all rather shun the little guy and get off at one of the heavy hitters like Matsusaka or Tsu or Yokkaichi or Kuwana. So, I'm here to tell you all the great reasons why you should stick it out and discover what you're missing...
Truth be told, Kameyama is a town (it's a shi only by the farthest stretch of the imagination) that really rocked it out from the Edo period to the beginning of WWII but, other than the big Sharp factory, hasn't really staged a comeback since the post WWII party slump. Now it's a bit of a sleepy one horse town (well maybe 1.5 horses) that is good for relaxing, speaking Portuguese and chowing down on Brazilian food (all of which are well worth doing). If you're looking to shake your booty or take in some brand name shopping however, you're probably going to want to look elsewhere.
The city is pushing for the new shinkansen line (between Osaka and Nagoya) that will open in around 30 years to run through Kameyama but it seems like they've got only a slim chance on that one.
The city is known for candles, tea, miso-yaki udon, and for being a station in the Tōkaidō (even though technically the city has three stations acquired through the city mergers that absorbed Seki and Sakashita). You may have also heard of a TV produced by Sharp known as the "Kameyama Model", that is produced right here in a factory that is about half the size of our city.
It is also said that Kameyama is the border between Kantō and Kansai cuisine in Japan. This is where East meets West in Japanese flavor.
Name

"Kameyama" literally means "Turtle Mountain", with 「亀」 being "turtle" and 「山」 being "mountain".
It is one of the simplest names in Mie Prefecture. While it is possible that the name of the city was derived from the shape of the mountain ranges around Kameyama, locals still contend that the name was established due the the turtle's association with "longevity" and "prosperity".
Getting Around
Train
Riding the rails in Kameyama is, perhaps (with the exception of a car), the most convenient way to travel. Your only hindrance would be the ludicrous train times that can be as infrequent as the buses. There are three JR train lines that reach their terminus in KYC that will take you to convenient transfer points.
There are no Kintetsu Stations anywhere in the city. Heading to Tsu is the closest and fastest way to reach a Kintetsu line.
Kameyama (亀山) This oddly large station is a terminal, connecting 3 major JR lines: The Kansai Main Line (JR Central portion), The Kansai Main Line (JR West portion), and the Kisei Main Line (starting point). As a JR Central / JR West lattice point it is a fairly important junction (as far as train stations go), connecting the Chubu and Kansai regions together. Despite this, this station still lacks many of the innovations used in other, less prominent, stations such as IC card scanners. No trains run through the station, if you find yourself here you will either be transferring to another train or disembarking to get a helping of our charming but inaka city.
Idagawa (井田川) One stop away from Kameyama on the JR Central portion of the Kansai Main Line and is the closest station for those residing the the Northeast region of Kameyama.
Shimonosho (下庄) The next stop on the Kisei Main Line and is located south, near the border of Tsu.
Seki (関) Station is one stop west of Kameyama on the JR West portion of the Kansai Main Line. The town is famous for its well preserved portion of the old Tōkaidō. This part of town is right outside the station.
Kabuto (加太) The second stop on the Kansai Main Line West. This stop is the farthest in the west and sits close to the border of Iga. Kabuto is known for many scenic trails and is a popular destination for local hikers especially during cherry blossom season.
Bus
Bus service isn't expensive, but can become terribly inconvenient if you don't plan ahead. Bus times range from infrequent to unreasonable, with some buses unavailable at certain times of the day and most ending their service before 9 P.M. Be aware of this as certain bus stops are nowhere near a train station and missing your bus might mean a long walk and/or a terribly expensive cab ride. There are buses to Hirata-chō (平田町) Station in Suzuka. This bus also takes you by Bell City, the nearest major shopping center. Bus fare to Bell City is ¥530 and Hirata-chō is ¥560.
Line A/B These two local buses run basically the same route with one running the inner loop (A) and the other the outer loop (B).
71 (平田町駅・鈴鹿中央病院) Line 71 is perhaps the most frequent of the Hirata-chō/Bell City bound buses and has terminal stops at either Hirata-chō or Suzuka Central Hospital. This is the best line to take for those bound for Bell City since the bus stops directly in front of it. Certain buses in the line also take a slight loop to the Suzuka Kaisei Byōin (鈴鹿回生病院) so don't panic if the bus suddenly pulls in to a hospital. Those buses will be marked with "回" on the timetable.
30 (平田町駅) The other line bound for Hirata-chō. The route is far more "straight-forward" when compared to Line 71 but Bell City bound riders will have to walk a bit farther.
91 (シャープ亀山工場) This line goes to the Sharp LCD Factory but makes stops in the Seki area. For those living in Kameyama without a car, this is the only route that will give riders access to Sunshine Park.
55 (椋本) This south-bound bus goes to the outer edges of Tsu near Geino (芸濃) and is perhaps the most infrequent of all Kameyama bus lines running at only five times a day. There is no reason for anyone to ride this bus.
Car
Almost everything you'll need can be found in Downtown KYC. However, if you are looking to venture into the nooks and crannies of Kameyama, or visit some of the scenic locations the city has to offer, a car would serve you well.
Be aware, driving in KYC can be the most daunting experience you'll have behind the wheel. The ridiculously narrow roads coupled with drivers ranging from unaware to oblivious might just be reason enough not to drive within the city limits.
Local Attractions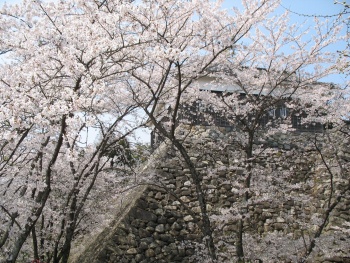 Things to See
Kameyama Castle (亀山城 Kameyama-jō)

Ask any resident and they will say that the city's crown jewel is Kameyama Castle, located in the aptly named Kameyama Park. A reminder of Kameyama's glory days on the Tōkaidō, Kameyama Castle sits on atop a high stone wall looking down over Kameyama Junior High School and the rest of the city. Upon asking many residents about the history of the 'castle' (which doesn't look much like a castle at all) all I managed to get was 'Oh, we don't know what it was for, maybe not a castle at all, very mysterious!'. People have said that it may have been a storage facility for arms and other goods that were carried and traded along the Tokaido. Whatever the case, it carried a fairly high level of significance back in the day. Enough so to have it forever immortalized in Hiroshige Andō's famous series of paintings, 'The 53 stations along the Tōkaidō Road' (Kameyama is #47 in the series) which depicts travelers ascending to steep hill leading to the 'castle'. There's supposedly is a museum inside but it has never once been open. The castle looks quite beautiful during sakura season when it is illuminated by lanterns and colored lights.
Getting to the castle is easy as pie, all you have to do is walk out of the station and go straight...you'll see it looking out over the town. The park is almost right next door, follow the stairs down, cross a small red bridge and then back up the other side and VOILA! Cool slide at your service!
After nearly a year of restoration, the tool shed is once again open for public viewing. The old wood panels that lined the walls of the "castle" have been removed leaving it a stark, plain, white-walled shoebox.
Kameyama Park (亀山公園 Kameyama Kōen)

A large expanse of land situated just north of Kameyama Castle. The park consists several play areas, a small lake and a massive garden that is a sight to behold during hanami and late spring when the flowers bloom. There is also a massive grass field on the northwestern edge of the park which is perfect for sports. This park is also home to arguably the best slide in the prefecture; two story iron giant complete with a corkscrew.
Access to the park is rather simple: make your way to Kameyama Castle and turn left on the road that separates the castle with Nishi Elementary and you are there.
Sekisuikei (石水渓)

An exquisite forestry area frequented by nature-lovers of the city. If the outdoors are calling you, Sekisuikei just might be the place for you. This massive tree-lined nature nirvana is a great place to hike, camp or just hold BBQs. The canopy of trees ensure that your stay here will be pleasant, even on muggy summer days. A great place to relax and let your mind drift through the sounds of the running river and waterfall.
To get here, simply drive north on the 308 until it becomes a narrow, local road. Continue on the path until you pass the the small mountain ridges that flank the road and enter the inclined road. There are legends of buses that travel this route but so far is unconfirmed. At any rate, traveling by bus is hardly recommendable as missing that last bus would leave you stranded in the middle of nowhere.
Seki (関)

Seki is an area that used to be its own town but was absorbed into the "city" of Kameyama. To be perfectly honest, the town itself is rather plain with the exception of the Machinami. This is historical stretch of road that was part of the Tōkaidō and was a hub for travelers walking to and from Kyoto. Most of the buildings from the Edo Period have been kept intact and the rest have been been restored to its former glory. It runs the length of town and is the center of activity even today.
To get to it is easy. Simply walk out of the train station (aptly named "Seki") and up the road directly across the street. You will be heading up a hill. Continue up the hill for about five minutes and the first real intersection you come to will be Machinami. The main sights are to your right at this point, or up the hill.
Festivals and Events
Big Market (大市 Ōichi)

The two-day celebration that commemorates the arrival of travelers on the Tōkaidō during the Edo period. During Ōichi, local vendors set up stalls along the Higashimachi district to recreate the bustling atmosphere that welcomed travelers to the Kameyama-juku of the Tōkaidō. While generally not considered a festival, a distinct festival feel to the event is present throughout and you can treat yourself to a wide array of festival food while you take a look at the wares available for purchase. You may even use this time to partake in misoyaki udon, Kameyama's B1 pride. The event happens every year at the end of January.
Services
Despite the inaka-ish feel of Kameyama, there are plenty of kombinis, ATMs and post office branches around.
Shopping
KYC is not a shopper's destination. There are a few local shops here and there and you can find almost everything that you might be looking for but KYC shopping doesn't offer nearly as much as the bigger cities can.
Bell City in Suzuka is pretty close from here and is a major shopping center. It even has a movie theater, among other things.
Shimamura (しまむら)

A clothing store that caters mostly to ladies' fashion but carries a few items for men as well. They also sell futon and pillow sets at comparably reasonable prices. From the station go north and turn right before the bridge. It is in the same compound as Ebisu Ramen.
Clothing Superstore Watasei (衣料スーパーわたせい Iryou Su-pa- Watasei)

Despite what the name suggests, this store sells more than just clothing and stocks an assortment of household goods at cheap prices. The store is conveniently located between the Lawson and Shimamura on Route 28.
Mister Tonkachi (ミスタートンカチ)

Go here for all your household and hardware needs. Also has a very nice garden department that stocks up a fine assortment of potted plants. Located at the east end of the Echo Town.
Edion (エディオン)

A fairly well-stocked albeit a smaller version of the electronics store located in big cities. You'll find much of the basic electronics here from cameras to AC units. The store is located at the second floor of the Echo Town mall.
Daiso (ザ・ダイソー)

The only thing in Kameyama that might qualify as a box retail store. This 100 yen store is surprisingly large for this city. Access is a bit far. It's located on Route 28, east of the station.
Food and Drink
Liquor Mountain (リカーマウンテン)

Similar to YamaYa. This store sells alcoholic beverages and a selection of international food. Shochu is also brewed in-facility and can be purchased by the liter. The most convenient access to this place is by car (also by bike if you are willing to trek the distance); head north on the Junken Highway (308) and you will see it after the bypass. Bus 30 heads towards this direction and has a stop a few blocks away. However, the inconvenient bus times will surely be a hindrance... plan accordingly.
Supermarkets
MaxValu

Quite far from the station but generally sells meat and produce cheaper than Sanshi.
Okuwa

Located between Kitamachi and Sakaemachi. Perhaps the largest supermarket in Kameyama.
Sanshi

The supermarket located in Echo Town inside the mall.
Value Center

Located near Lawsons and the Post Office. Item selection isn't as impressive as the other stores but should satisfy your basic needs.
Produce Farmers Market (果菜彩ファーマースマーケット Kanazai Farmers Market)

A produce shop that stocks fruits, vegetables and meat from local growers. A reasonable alternative to the other supermarkets. Located diagonally across from Shimamura on Route 28.
Chain Restaurants
Local Restaurants
This is where KYC truly shines. There are a bounty of awesome restaurants in Kameyama and offers more than just good Japanese food. Kameyama has a high Brazilian population (around 10-15%) so you can be assured that your Brazilian food is going to be the real thing.
Himalaya Kitchen (ヒマラヤキッチン)

This Indian-Nepalese restaurant serves a great assortment of curries and naan at reasonable prices. This tiny wonder can give other Indian restaurants (including Indo Mura) a run for their money and serves arguably the cheesiest cheese naan in the prefecture. Located in the heart of downtown KYC's shopping district, this cozy restaurant is only a few minutes walk from the station.
Cantinho de Roca

The Brazilian restaurant in town that is a fair distance from the station. Exit the station, walk straight until you hit the main road, turn right and continue on for about 15 minutes. It is located very close to the Daiso and its large yellow and orange sign is rather hard to miss. The food here is delicious. 1600 yen will get you a generous slab of beef, a smorgasbord of sides (in the buffet) including rice and beans, and drinks. However, if you like your beef still mooing, I suggest you let your server know. They tend to aim for well-done with their beef.
Kamehachi (亀八)

The birthplace of KYC's famous miso-yaki udon. Originally a truck stop, the restaurant gained notoriety amongst locals as news of its amazing miso sauce spread. Today, you'll find the restaurant crowded with hungry people, eagerly waiting for their turn on the teppan. For a fast and relatively inexpensive meal, this place can't be beat! Unfortunately, the restaurant is located directly in between the Kameyama and Seki stations and is about a 20 minute walk from either stations. If you decide to trek the distance though, you won't be disappointed.
Mukai Butcher Shop (向井精肉店 Mukai Seinikuten)

This butcher shop sells a fine assortment of beef, most of which is Matsusaka-gyū. The store doubles as a restaurant with very limited seating. Eating here can get rather pricey but it sure makes a great treat after a month of work.
Ebisu Ramen (東京おぎくほゑびすや Tokyo Ogikuho Ebisuya)

The ramen shop very close to Shimamura. A favorite among night-owls for its inexpensive prices and late service hours. Beware of drunken businessmen.
Shirakuma (白熊)

A local ramen shop known for their really, really good moyashi. Unfortunately, that's about all there is to this place... This establishment is on the main road, west of Idagawa station.
The Moon's Garden (月の庭 Tsuki no Niwa)

An organic, vegetarian restaurant that serves all sorts of yummies for those of you who aren't ready to dive into the meat fest that is Brazilian food. It's a bit off the beaten path but only about a 10 minute walk from the station. It's best to ask someone on the street how to get there because it's down a few back streets. Have no fear though, you can get there with no problems, Once you do arrive, reward yourself with an organic smoothy.
Kyōya (京屋)

Sushi and domburi restaurant in front of the city hall. This is the lunch-time spot for many city hall workers.
Recreation and Entertainment
We have a lot of rice paddies complete with white cranes and rabid paddie dogs. Come and enjoy them with us won't you!
General greenery

Unlike some of the bigger towns, Kameyama isn't a concrete wasteland. You can walk down tree lined streets and peek over fences into exquisite private gardens.
Some damn nice parks

We have a couple of really nice parks with open grass fields, ponds and a SUPER COOL playground with the best slide in the prefecture!
If you're interested in sports we also have two athletic parks cleverly named West Park (西の公園 Nishi no kōen) and East Park (東の公園 Higashi no Kōen) which have a plethora of sports facilities from baseball diamonds to tennis courts to dojo.
Game Ciao

Local hang-out for all junior and senior high school students and located at the center of Echo Town. Video games and UFO catchers are located on the first floor, medal games and slots are found in the smoke-filled second floor.
Turtle Workout

Read as "total workout". As far as gyms go, it's not bad. Offers a good assortment of aerobic, cardio and weight machines. Gym members can also sign up for calisthenics and aerobic classes. The gym also has a decently sized pool.