Japan Travel
From Mie Guidebook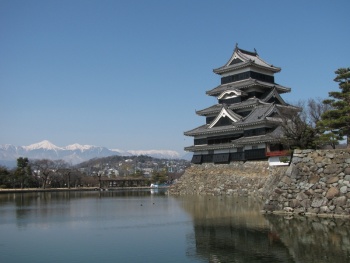 Looking to get out of Mie for awhile? See what others have done and recommend. The whole of Japan is open to you and is easily accessible by the country's amazing transportation network.
Full List of Japan Travel Guides
See Japan
Transportation Options
Mie's proximity to both Nagoya and Osaka makes getting to other major areas of Japan rather convenient.
Bullet Train
The Japanese bullet train (新幹線 shinkansen) is not only uber-fast at 300kmph (~200mph), but is also officially the safest major transportation system in the world with an 100% safety record. The corridor between Tokyo and Osaka is the busiest high-speed rail line in the world, with 16-car trains running at mostly full capacity every 10-15 minutes. The bullet train is ideal for traveling between major metropolitan areas over, but is not as useful if you want to go all the way from Mie to the tips of the country; the shinkansen works great for getting to Tokyo or Hiroshima, but not so well for getting to Aomori or Kagoshima as your trip to these locations will not only take longer via bullet train than airplane but also cost more.
Unless you live in the northern or western extremities of Mie (aka, Kuwana or Nabari), when utilizing the shinkansen as an option it is generally a good idea to go out of Nagoya if heading east (Shizuoka, Yokohama, Tokyo, etc) and go out of Shin-Osaka if heading west (Okayama, Hiroshima, Hakata, etc). This approach is guaranteed to save you money, and possibly time as well. There are no standard limited express trains that parallel the bullet train, only regular local trains; the shinkansen can be anywhere from 3-6 times faster than taking regular trains.
Shinkansen Times and Prices
Depart
Arrive
Time
Unreserved
Reserved
Nagoya
Tokyo
1 hr, 40 min
¥10070
¥10980
Nagoya
Shinagawa
1 hr, 32 min
¥10070
¥10980
Nagoya
Shin-Yokohama
1 hr, 19 min
¥9440
¥10350
Nagoya
Shizuoka
58 min
¥5670
¥6380
Shin-Osaka
Okayama
46 min
¥5350
¥6260
Shin-Osaka
Fukuyama
1 hr, 04 min
¥7140
¥8050
Shin-Osaka
Hiroshima
1 hr, 22 min
¥9440
¥10350
Shin-Osaka
Shin-Yamaguchi
1 hr, 52 min
¥11760
¥12670
Shin-Osaka
Kokura
2 hr, 09 min
¥13240
¥14250
Shin-Osaka
Hakata
2 hr, 26 min
¥14080
¥15090
Shin-Osaka
Kumamoto
3 hr, 01 min
¥17510
¥18520
Shin-Osaka
Kagoshima-Chūō
3 hr, 47 min
¥20790
¥21800
Puratto Kodama
Purrato Kodama (ぷらっとこだま) is a discounted way of riding the bullet train line that runs between Osaka and Tokyo. For about 75% of the standard fare, you can ride a Kodama reserved seat; Kodama are the shinkansen variety that stop at every bullet train station and so it is a bit slower but still runs at bullet speed. Tickets typically must be purchased at travel agents or major JR stations and must be booked at least one day in advance of travel. Cancellations are basically impossible as well.
Purrato Kodama can only be used when departing and arriving at the following stations:
Shin-Osaka • Kyoto • Nagoya • Hamamatsu • Shizuoka • Shin-Yokohama • Shingawa • Tokyo
Purrato Kodama Times and Prices
Depart
Arrive
Time
Price
Nagoya
Hamamatsu
47 min
¥3500
Nagoya
Shizuoka
1 hr, 18 min
¥4500
Nagoya
Shin-Yokohama
2 hr, 31 min
¥7700
Nagoya
Shinagawa
2 hr, 41 min
¥7900
Nagoya
Tokyo
2 hr, 49 min
¥7900
Limited Express Train
Limited expresses (特急 tokkyū) are comfy trains with proper seats that run longer distances than standard trains. They generally cost approximately double of what the regular fare would be, and for a reserved seat you will pay a few hundred extra yen on top of that. JR's limited express trains generally have widely-used nicknames, usually based on either on a historic name of the region the train is running through or based on an speedy animal (usually a bird) that can be found in the area.
The JR ones generally connect two major cities or connect a major city to a major tourist destination. In general, they radiate out from bullet train stops in order to provide quick and comfy trains to all those areas in Japan which do not have a bullet train line. For example, cities like Kanazawa, Tottori, Matsue, Kōchi, and Nagasaki are ideally accessed via limited express trains originating from a station along the bullet train line.
Japan's numerous private railways also run limited express trains for the same purpose. They will generally run the entire length of any given private railway, terminus to terminus.
Tickets
For JR limited expresses, tickets can be purchased at any major JR station that has a "green window" (みどりの窓口 midori no madoguchi). However, keep in mind that certain limited express trains, especially popular or struggling ones, will often have discounted tickets available. Unfortunately, these discounted tickets can often only be purchased at JR stations in the part of Japan where the train runs – sometimes only the major stations where that train stops. So do your research in advance and if you learn of a discount ticket, wait until you arrive to buy your ticket unless you are traveling during a peak season (read: New Year's, Golden Week, or Bon). The regional JR websites will have a lot of information on discounted limited express tickets.
If you want to purchase tickets for private railway limited expresses in advance, you may have to do so at a proper travel agent. However, like with JR, there is liable to be a discount ticket available if you wait until you arrive and buy the tickets there; research always pays when riding the tokkyū.
Regular Train
Regular trains are those trains which don't cost any extra money (on top of the standard fare) to ride and generally do not have reserved seating. They come in a variety of shapes, sizes, and colors. Throughout Japan there are many different classifications given to regular trains, but all those many names generally contain one of the following phrases:
Local (普通 futsū / 各駅 kakueki)
Rapid (快速 kaisoku)
Express (急行 kyūkō)
Ideal Radius
There are certain areas outside of Mie (accessed via either Nagoya or Osaka) that are a bit distant from Mie but not far enough away to warrant the extra cost of a bullet train or limited express; for areas within this radius, taking regular trains is the ideal means of getting there. The radius generally stretches out 90 minutes from the departure point, as that tends to be as far as you can go on a rapid train before having to switch – which greatly increases the time it takes to get places, hence reducing the cost-effectiveness of taking regular trains.
The following cities can all be accessed directly (no changes) from either Nagoya or Osaka via rapid (kaisoku) trains.

If you are looking to travel outside this radius via regular trains during either spring, summer, or winter vacation, you should strongly consider...
Seishun 18 Ticket
The legendary ticket that gives you all-you-can-ride access across the country for ¥2300 per day if you are prepared to see the countryside slowly – the ticket can only be used on local and rapid trains.
Local Bus
Local buses (路線バス rosen basu) are what can make the difference between a good and a great trip. Every corner of Japan has a company which operates local buses, and figuring out how to utilize the buses allows train travelers to see all that an area has to offer as opposed to being stuck at sites that are close to stations.
Major tourist areas in big cities will likely have "how to get there by bus" information posted, however more out of the way areas will not. When going to these remote areas, researching the local buses in advance gives travelers the ability to get the full experience. It is often said you need a car to really see Shikoku, however this is not the case – though many of the sites there are far away from stations, learning about the buses in advance will allow you to see basically all of them. Local buses are the train traveler's best friend.
Highway Bus
Highway Buses (高速バス kōsoku basu), or day buses, are just night buses that run during the day. The only real difference is that they tend to be about 50% to 66% of the price of a night bus running the same route. The rules and tips for highway buses are generally the same as those of night buses, as they are run by mostly the same companies.
There are generally two waves of them through out the day:
Buses that leave in the morning and arrive at their destinations in the late afternoon.
Buses that leave in the mid-afternoon and arrive at their destinations in the late evening.
Night Bus
If you're looking to save money on travel costs, night buses can be a very economical option for would be travelers.
See Night Bus Travel
Flying
See Air Travel
Ferrying
For ferries within Mie (to Centrair and Toba~Irago), see Ferry Travel
As an archipelago, there are a number of ferries sailing to and from different corners of Japan. Of note to those living in Mie, there are a large number departing from Osaka and Kobe headed towards Kyushu.
Japan Guide has coverage of ferries within Japan, including a detailed map, prices, and links to ticket sites: Ferries within Japan
Driving
A great alternative for small groups that grants the ability to get around easier and see places that the trains won't take you. In general, driving to big cities is not advisable due to the extremely high parking costs and traffic congestion of Japan's major cities, however cars are ideal for seeing places off the beaten path.
Taking Your Own Wheels
Bringing your own car allows for the most freedom, but if going far be aware of expressway fees.
Rental Cars
Training or busing to your destination and then renting a car is the best of both worlds. Many major stations have rental car facilities in the area, perhaps even on-site.