Iga
From Mie Guidebook
Iga (伊賀市 : Iga-shi) is a large area comprised of many small towns, the biggest of which is Ueno. In 2004, Ueno merged with 5 outlying towns and villages, which are very small and mostly vast swaths of rice fields. Thus, they created some sort of huge inaka-bot, like that big transformer that was made up of little ones.
There is a theoretical population of 100,000, but you'd be hard-pressed to find them all.
Name

"Iga" is a word that is hard to nail down the exact meaning of as its an ancient word.
The town is named after old "Iga Province", which was an autonomous province in the Edo period containing what is now Iga and Nabari. As the city of Iga now occupies most of that former province, the name makes sense. The names of the old provinces (like "Iga", "Ise", "Shima", and "Kii") likely out-date the use of kanji in Japan, and so it is likely that kanji were arbitrarily applied to the name based on its sound.
Pre-Merger
Before the 2004 merger, what is now the "city" of Iga was six separate entities:
Ueno (上野市)
Aoyama (青山町)
Iga (伊賀町)
Ayama (阿山町)
Ōyamada (大山田村)
Shimagahara (島ヶ原村)
Getting Around
Train
Iga is served by Kintetsu running along the south, JR running along the north, and the private Iga Railway running between the two.
To get to Ueno, you have to go to Iga-Kambe (伊賀神戸) Station and then transfer and go up to a station called Uenoshi (上野市) - not tricky. Or, you can go along the top by JR to Iga-Ueno (伊賀上野) Station and then transfer there and go down to Uenoshi (still not tricky). Iga-Ueno station is not to be confused with Uenoshi, and if you get off in Iga-Ueno you will have nothing but frogs and rice fields for company. You will be very sad.
The good thing about Iga is its (relative) closeness to civilisation. Once you have managed to get out of Iga then you're 90 minutes away from Osaka and Kyoto by train. Lord only knows why you'd want to live this lovely village for the bright lights of the city, but some people are strange like that.
The main station in Aoyama is, believe it or not, Aoyamachō (青山町) Station. It is in the envious position of being the last stop on the express that leaves Osaka-Uehommachi, meaning there are 3 trains an hour to and from Osaka.
Bus
There are express busses that run from Uenoshi bus station (handily next to the train station) to Nagoya and Osaka. There is also an overnight bus to Tokyo from the same bus station, but those tickets should probably be bought in advance.
Car
Iga is pretty spread-out so a car could be a big help unless you live right in Ueno.
Local Attractions
Moku Moku Farms

Organic farm that produces its own pork and beer. Popular place to catch a good, healthy meal.
Ueno
Much of the city's tourism revolves around Ueno Park
The top three places listed below can be seen individually or as part of a set for a discount. You should see them; they're pretty good and totally unique to the area. 1600 yen gets you in, it's a steal.
Things to See
The Ninja Museum

The ninja museum is located in Ueno Park and has a full size ninja house reproduction with spinning walls, booby traps etc., as well as lady ninja guides dressed in bright pink ninja suits. It also has an underground museum with about 200 pieces of real ninja weaponry. After that there is another hall which tells visitors about what the ninja did when they weren't busy flipping around or slapping people, with explanations of their secret tunnels and the codes they used. After all this you have the ninja gift shop, where you can get your hands on high quality ninja sake and slightly less high quality weapons such as swords, throwing stars etc. All full size and weight, but not likely to be much cop in a fight. After the gift shop they have a combat arena where on the hour every hour during weekends and holidays they will have trained martial artists fighting and/or performing.
Ueno Castle

Visible from miles away if you're in the right place. The reason being it's on top of a sodding massive hill with loads of stairs to navigate. It looks very pretty though, and Ueno Castle is great for photo opportunities. It houses various bits and bobs like armour, swords and art. It has 3 floors with really, really steep narrow stairs.
Ueno Castle is the only remaining actual castle in all of Mie Prefecture - all the other cities have just "former sites" of castles. While castles aren't too terribly hard to come by in Japan, they are in these parts.
The Danjiri Museum

The museum is located between the city station and the park, and the building is so big that only somebody who is terminally stupid could miss it. A Danjiri is a 20-foot tall, rolling shrine thing that is much too difficult to describe...however, it looks cool with all kinds of pots and pans and clangy things attached to it for maximum impact. These Danjiri were like the feudal Japanese equivalent of low riders with Blaupunkt sound systems and leopard skin seats, and were used by the samurai pimps to announce their arrival to the peasants. I may have misheard during the tour though. We also have a parade with them! Ueno has a festival every October called the Tenjin Matsuri where 10 of these things all trundle around the city streets with lanterns attached making a total racket, and about 200 people dress up as ogres follow behind pretending to be drunk...or perhaps they weren't pretending. Anyway, in the museum you can experience that for a small price all year round, which is nice.
The Basho House

On top of ninjas, Ueno also claims to have invented modern day haiku poetry, and by now you're probably thinking what a filthy liar Ueno is. Well, a bloke born here about 400 years ago called Matsuo Basho did, to a certain extent. In Ueno Park there is a large mushroom-shaped building some say resembles a giant Smurf house that is a shrine to Basho, so every year in November they have a Basho festival with choirs and orchestras, which is a nice sight. All in the shadow of a giant brown Smurf house.
Haiku museum

A museum that has haiku made by Basho, as well information about his life and travels. Inside are actual Basho haiku. They may well indeed be cultural treasures, but the writing on them is so old and squiggly that not even the emperor or the oldest Japanese person alive can read them. Best to give this place a miss unless you are rich or waiting for a train. Also located in the park, but it's rubbish.
Sukodo Samurai School

A school building complex that has been preserved here in Ueno, where the local nobility used to send their little cherubs to learn how to read, write, and chop up peasants with swords. The school itself is beautiful inside and looks like it could have been used in any number of famous movies, such as When Harry Met Sally or Il Postino - Postman. Anyway, it's worth a trip for the scenery.
Events and Festivals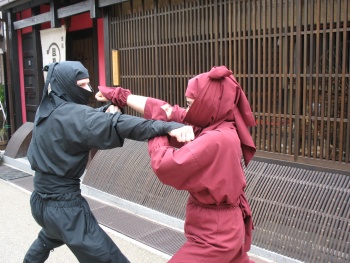 Ninja Fest

One of the ultimate events in the Mie calendar. During any weekend in April, come to Iga and pay about ¥1000 to dress up in a fairly authentic ninja costume and walk around all day. While walking around, you are able to test your ninja skills at various booths around town, such shuriken, candle-blowing, sling shot, and more. You'll be with a lot of children but who cares.
Tenjin Matsuri

There are many danjiri festivals in many places in Japan, but Iga combines the majesty of beautifully decorated carts parading through narrow streets with a melodious chorus of crying babies. Try not to miss the Oni Gyouretsu or Devil Procession where locals (including some of your students if you're an Iga JET) dressed as devils swagger and stagger through one special street so laughing parents can wave their toddlers at them in the hopes of traumatizing their youngsters to tears. It's for good luck, apparently. The sound of screaming children along an entire street is quite an experience. Festival dates: October 23-25.
Aoyama
Aoyama is small but there are a few worthy things to see:
Waka-Ebisu Sake Brewery

Aoyama Menard Resort

Onsen, spa, golf, hotel

Palm de Yume

Pottery

Woodworking
Services
Aoyama has a local grocery store, dry cleaner, laundromats, post office, bank, and ryokan
Dr. Jo

English-speaking doctor in Aoyama, runs the Jō Clinic
Aquage Clinic

Also known as the Fujimori clinic. In Ueno not far from the Nishiote train station. There are two doctors there who will do their best to speak English.
Shimizu Ganka

Eye clinic for your glasses and contact lens needs near the Tenjin Shrine in Ueno. Japanese only.
Shopping
Apita

Another shopping complex. Includes a good sized Daiso. There are two (infrequent) busses from the Uenoshi bus station that stop nearby.
Aoyama has a drugstore and electronics store, near the supermarket.
Food and Drink
I've walked a lot and now I'm hungry. What's the eating like in Iga?
Supermarkets
Kombini abound in the central areas, plenty in Ueno and 3 in Aoyama
Chain Restaurants
McDonald's

KFC

Mos Burger

Sato

Japanese-style famiresu

Gusto

Bamiyan

Chinese-style famiresu

Conveyor-belt Sushi - Near Apita
Also, the food courts in Jusco and Okuwa that have Tonkatsu, Pier Jolly, etc.
Local Restaurants
Pori Pori

Although it sounds like it should be a washing powder it is actually a small place whose tenants are experts of world (and in particular South American) cuisine. Located 1 minute up the road from the 105 bank on the main street (called Ginza Dori), it has the finest kara-age (fried chicken) you will taste anywhere. Tip top.
Jazz bar - (off Ginza-dori near the Tenjin shrine)

Has live music provided by locals. You can sit and put the world to rights with the owner and his cat, who is always sat on the end of the bar. Its a wonderful place.
Aoyama
Toshi no Aji

Oranji

Izakaya - near Aoyama JHS
Chinese Restaurant

Italian Restaurant
Also, various restaurants along main route by Aoyama JHS
Recreation and Entertainment
Ueno
The sun is setting and I've made some friends. I want to be entertained! Much of Iga's entertainment is to be found at Ueno's Joy City
Bowling Alley - at Joy City

20 lanes
Karaokoe - Large complex at Joy City
Arcades - Two at Joy City
Wolfe Schanze - just off the main road

Decent pool hall
Alternatively, you can go get drunk in one of the 50,000 creaky izakayas we have, or go to the local convenience stores and Okuwa where local high school kids will be 'cool' by 'hanging out' there. Quite intimidating! Well, no. Ueno also has love hotels.
Aoyama
Horseback riding

Aoyama Health Center

Provides fitness classes and workout machines

Canada House

Karaoke

Small, probably only in Japanese!)

Library

Not many English books