Asahi
From Mie Guidebook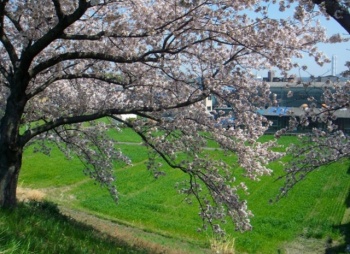 Asahi (朝日町 : Asahi-chō) is a small but friendly town in northern Mie with a population of about 10,000.
It is nestled between two highly populated areas (Kuwana and Yokkaichi).
Name

"Asahi" famously means "The Rising Sun", with 「朝」 being "morning" and 「日」 being "sun". It is a name shared with not just other towns but also a number of products such as the newspaper, the broadcasting company, and the beer.
Sometimes "Asahi" is alternatively written with the kanji 「旭」.
General
Asahi is unusually small in terms of area, it is the smallest municipality in all of Mie, occupying only 6km² of land. Kawagoe is a close second. Both towns are tiny and, as they are right next to each other, can be hard to distinguish on map.
There is a humongous Toshiba factory in town, which provides the town a good deal of money and is largely the reason why Asahi hasn't been gobbled up by a big bad city like most other small towns in Mie.
Getting Around
At a mere 6km², Asahi is very easily navigated on a bicycle.
Train
There are two train stations in Asahi, one Kintetsu stop and one JR stop, neither of which are express stops. The two stations are about 15 minutes apart on foot.
Ise-Asahi (伊勢朝日) Station

Kintetsu Nagoya Line. Locals and semi-express only. Nearest express stops are Kuwana (5 min north; 2 stops), and Kintetsu-Tomida (6 min south, 2 stops).

Asahi (朝日) Station

JR Kansai Main Line. Locals only. Nearest express stops are Kuwana (4 min north, 1 stop), and Yokkaichi (11 min south, 3 stops).
Local Attractions
Scenic Spots
Admire the view from the lookout point near JR Asahi Station (just look for the big flight of stairs and start climbing!)
Visit shrines or temples
Services
Asahi Town Office

Take care of official paperwork upon arrival

Mie Bank

located next to Ise-Asahi Station (Kintetsu)

ATMs

Available at Mie bank, K's Denki, and at the Asahi Town Office

Post Office

5 min walk from Asahi Station (JR). There is also one in nearby Kawagoe on Route 1, about 5 min bike ride from Kawagoe High School)

Laundry Mat

On Route 1 across from the grouping of ramen shops

Dry Cleaners -

One is located at K's Denki
A second local dry cleaners is located between the Ise-Asahi (Kintetsu) and Asahi (JR) train stations.

Hair Salons

There is one located a 2 minute walk from Ise-Asahi Station (Kintetsu) and another located between the JR and Kintetsu stations. A third hair salon is located up Route 66 (the big hill) and is next to the Family Mart.

Clinics

There is a newly opened women's clinic along Route 66. A general health clinic is located next to the Family Mart, and a third is one block from the old kindergarten. The closest English speaking health clinic is in Masuo - one stop north on the Kintetsu line (towards Kuwana).

Bike repair shop

There's no longer a bike repair shop in town. The closest one is at the bicycle shop on Route 1, near KawagoeTomisuhara train station.
Shopping
K's Denki

Electronics

Book, CD and DVD shops - along Route 1

GEO

Video and game rental shop (next to Monomania)

Monomania

Giant second-hand shops on Route 1 (the building with the giant whale on the side!). It sells everything from clothes, electronics, and furniture to dubious collectible toys. There are now 2 locations - one across the street from the other!
Food and Drink
Supermarkets and Kombini
Sanshi

Big supermarket off Route 1 (turn left at the intersection with the inter-connected pedestrian bridges and it's about 2 blocks down).

Local grocery store

Between the two train stations. Very friendly and sells seasonal fruit and veg.

Circle K

On Route 1 not far from Kawagoe High School.

Family Mart

Off Route 1 and up Route 66 (the big hill).

Lawsons (NEW!)

On Route 1, directly beside GEO
Local Restaurants
Chand Pur

Real Indian food and super nice owners

Several ramen shops

Eel restaurants
Chain Restaurants
Mos burger

Bamiyan

Chinese famiresu

Bronco Billy Steak House

Tonkatsu restaurant

Bento take away
Recreation and Entertainment
Links